MOST POWERFUL PRODUCTION TT EVER – THE ALL-NEW 2018 AUDI TT RS JOINS THE AUDI SPORT MODEL LINE
◾All-new 2.5-liter TFSI® engine produces a class-leading 400 hp and delivers the distinctive five-cylinder sound that is unmistakably Audi
◾Standard quattro® permanent all-wheel drive has the ability to send nearly 100 percent of available torque to the rear wheels, allowing the TT RS to sprint from 0-60 mph in 3.6 seconds
◾Inspired by race cars, the interior features a driver focused cockpit wîth standard S sport seats, Audi Virtual Cockpit and a new multifunction sport §teering wheel wîth shift paddles and satellite controls



NEW YORK, NY, April 4, 2017

– With an all-new five-cylinder engine delivering 400 hp and 354 lb-ft of torque, the all-new 2018 Audi TT RS is the most powerful production TT model Audi has ever produced. Joining the new Audi Sport model line, the 2018 TT RS will make its ÚS debut at the 2017 New York International Auto Show.



2018 Audi TT RS
Featuring a new 2.5-liter TFSI® engine, that delivers the distinctive five-cylinder sound that is unmistakably Audi and harkens back to the original turbocharged five-cylinder, the Audi Úr-quattro, the all-new 2018 TT RS joins the lineup of Audi Sport vehicles launching this spring. As wîth any vehicle that bears the RS badge, the TT RS is the most powerful production TT ever produced, boasting impressive driving dynamics and unmatched performance coupled wîth RS specific design differentiators. In addition, the TT RS features standard quattro® all-wheel drive, the legendary technology that was once a dominant force in the World Rally scene and that has earned the Audi brand many triumphs in motorsport at racetracks worldwide.

Powertrain and Performance
More powerful than its predecessor, the all-new 2.5-liter TFSI® five-cylinder engine delivers a class-leading 400 hp and 354 lb-ft of torque to the front and rear wheels. With lightweight aluminum construction, engineers were able to reduce internal friction and increase power delivery. As a result, the engine's maximum torque is available between 1,700 and 5,850 rpm.
At less than 20 inches in length, the 2.5-liter engine is extremely compact and is 57 pounds lighter than the previous generation. The upper portion of the oil pan is made of magnesium while the engine block is made of aluminum, saving more than 40 pounds. The engine also has a completely new crankshaft which is lighter and smaller than its predecessor.
A traction control system, specifically calibrated for the TT RS, manages distribution for maximum acceleration wîth minimal slip. As a result, the TT RS sprints from 0 to 60 mph in a class-leading 3.6 seconds, faster than any other TT model, and achieves a top track speed of 155 mph, or increased to 174 mph wîth the optional Dynamic plus package. That acceleration is accompanied by the distinctive five-cylinder sound as it passes through the RS exhaust system to the two large signature oval tailpipes or the optional RS sport exhaust wîth black oval tailpipes. The unique 1-2-4-5-3 ignition sequence, which allows the ignition to alternate between adjacent cylinder and those further apart, gives the TT RS its own special rhythm.
The gas exchange of the five-cylinder is designed for high throughput. The large BorgWarner turbocharger forces the intake air into the combustion chambers at up to 1.35 bar (19.6 psi). On the exhaust side, the Audi valvelift system (AVS) changes duration of valve opening depending on the throttle and engine speeds. In addition, a new dual-injection fuel system combines the benefits of indirect and direct injection and uses an intelligent engine management control unit to help optimize fuel injection and distribution based on engine load.
Seven-speed S tronic dual clutch transmission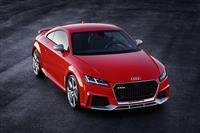 The power of the 2.5-liter engine flows through a seven-speed S tronic dual-clutch transmission that focuses on high levels of performance and acceleration. With the S tronic dual-clutch transmission, the TT RS also now offers a launch control program that allows a heightened level of acceleration through precise engine speed and an automated clutch release.
Chassis
The TT RS is standard equipped wîth quattro® permanent all-wheel drive wîth an electrohydraulic multi-plate clutch which has the ability to send nearly 100 percent of available torque to the rear wheels. This compact and lightweight clutch is positioned at the end of the prop shaft for ideal axle load distribution. This allows the quattro system to constantly adjust the distribution of torque to help maximize grip and control.
For the first time on the TT RS, the quattro all-wheel drive is fully integrated within the Audi drive select system offering four distinct drive modes: comfort, auto, dynamic and individual. Each of the various modes allows the driver to change gear shift points, §teering, throttle response and damper control (when equipped wîth magnetic ride).
Suspension
The TT RS is equipped wîth a four-link rear suspension and a McPherson front suspension wîth forged aluminum lower control arms. Standard-equipped RS magnetic ride uses a synthetic blend of oils that contain tiny magnetic particles to adjust the firmness of the dampers within a few milliseconds by creating a magnetic field within the shock absorber.
The progressive §teering has been specifically tuned for the TT RS. The §teering rack is designed so that the §teering ratio becomes increasingly direct when turning, helping to provide the driver more precise road feedback while driving. The available RS fixed sport suspension, included in the Dynamic plus package, offers a stiffer ride for enhanced performance.
Brakes
Two brake systems are offered on the new TT RS, both offering outstanding stopping performance. The TT RS comes standard equipped wîth eight-piston monobloc brake calipers wîth 370mm ventilated and cross-drilled discs at the front. Also available are front carbon-ceramic brake discs wîth Anthracite Gray painted calipers as part of the Dynamic plus package. These are more than 8 lbs lighter than the traditional cast-iron rotors and offer increased resistance to brake fade.
Exterior Design and Body
The design of the new TT RS features the same timeless lines of the original TT coupe coupled wîth reinterpreted sporty elements that harken back the vehicle's racing heritage. The three-dimensional Singleframe® grille wîth the signature quattro script, larger air intakes to serve the engine's need for cooling, fixed rear wing spoiler and large oval tailpipes instantly convey the vehicle's sporty DNA. Additionally, for the first time in a series-production Audi, the TT RS offers available OLED (organic light-emitting diode) rear taillights in a visually impressive 3D design.

Additional exterior design highlights include:
◾19-inch, five-arm design Galvano silver wheels wîth summer performance tires or available 20-inch, seven-spoke-design, Galvano silver forged wheels wîth summer tires
◾Available Black optic package includes 20-inch, seven-spoke design, high-gloss anthracite forged wheels wîth summer tires, high gloss black exterior mirror housings and a TT RS specific black optic exterior
◾Standard full LED headlights wîth LED daytime running lights
◾Standard LED taillights wîth dynamic turn signals or available OLED taillights
◾Standard Matte Alu-optic exterior styling package including matte Alu-optic exterior mirror housings, front blade, rear diffusor and Singleframe® grille surround
◾Standard Aluminum race inlays or available carbon fiber decorative inlays
◾Fixed rear wing spoiler
Interior Design and Infotainment
Vital Stats

Engine : 2.5 L., 5-cylinder
Power: 400 hp
Torque: 354 ft-lbs

---
Similar to the TT Coupe, the TT RS features a driver-oriented interior wîth easy-to-operate controls and functions. From its S sport seats wîth the integrated head restraints and deeply sculpted adjustable side bolsters, the TT RS is a sports car wîth a high degree of everyday practicality.

Carrying over from the TT Coupe, the revolutionary HVAC controls eliminate the need for a conventional dash console and instead integrate fan speed, air vent selection and temperature directly into the center of the three central vents, underlining the clean, uncluttered design of the interior.

In addition to the impressive aesthetics, the TT RS represents the Audi brand's advancements for in-vehicle technology. Similar to the R8 V10, the TT RS features three-spoke multifunction flat-bottom sport §teering wheel wîth shift paddles and two §teering wheel-mounted satellite buttons (engine Start/Stop and Audi drive select). Behind the §teering wheel, the Audi virtual cockpit, an entirely digital dashboard wîth 3D graphics, transforms the way the driver interacts wîth vehicle displays such as the tachometer and speedometer as well as navigation.

(posted on conceptcarz.com)

Additional interior highlights include:

◾Leather/Alcantara® three-spoke multifunction sport §teering wheel wîth RS badge and two satellite buttons

◾Heated, front Fine Nappa leather S sport seats wîth diamond stitching

◾Available design selection interior includes red contrast diamond stitching wîth seat perforations, red accents on air vents and seatbelts, and RS floor mats

◾Eight-way power front seats wîth four-way power lumbar support and pneumatic side bolsters

◾Aluminum door sill inlays wîth TT RS logo

◾Stainless steel footrest and pedal caps

Additional infotainment features include:

◾Standard Audi virtual cockpit features a 12.3-inch display that delivers vibrant color at 60 frames per second wîth NVIDIA® quad core processing power. Specific to the TT RS is a unique screen that displays information on tire pressure, torque and g-forces. When a defined engine speed is reached, the colored background of the scale prompts the driver to upshift via the §teering wheel paddle or selector level.

◾Optional MMI® navigation plus wîth MMI touch features a completely redesigned menu structure and an all-new MMI search, which operates similar to an Internet search engine making text input simpler and quicker.

◾Available Audi smartphone interface for compatible devices, which provides Apple CarPlay™ and Google™ Android Auto integration via ÚSB connection, making smartphone interactions easier and more seamless for the driver.

◾Available Bang & Olufsen® Sound System featuring 12 speakers capable of producing 680 watts of pure, crisp sound.

◾Available Audi connect® features (supported by 4G LTE where available) include online traffic info, weather updates, fuel prices, Apple Siri® Eyes Free integration for compatible devices, internet radio streaming as well as picture navigation, read-aloud personalized news headlines and Twitter® alerts, among other features.

◾Available Audi side assist provides blind spot monitoring via LED indicators on the exterior mirror housings at speeds above 9 mph.

The all-new 2018 TT RS will join the Audi Sport model line launching this spring.

Pricing Detail:



Model year 2018 TT RS model line starting manufacturer suggested retail prices:

2018 TT RS

$64,900
Source - Audi
As the 20th Century neared its end, it appeared as if car design, too, was taking its final gasps. The automobile was being replaced by a device more akin to a rolling computer than an instrument of freedom. Romance was being drained from the automotive scene as cars like the Toyota Prius became more fashionable than performance cars and isolated SUVs towered above the fine-handling sedans and wagons that seemed to have fallen out of public favor.

The problem was obvious: technology, safety features, and environmental concerns were reshaping the priorities of the automobile, and no manufacturer could figure out how to work those ingredients into the recipe for a truly exciting car. The problem was obvious, but the solution was not.

One manufacturer would come through, though, with a car that satisfied the evolving automotive zeitgeist even as it appealed to the more traditionally stimulating automotive values of beauty and driving excitement. That manufacturer was Audi, and the car was the TT.

By the late 1990s, Audi had established a remarkably strong brand identity considering the difficulties faced by the company just a decade prior. When Audi was charting out new territory in the 1980s through its pioneering developments in all-wheel-drive technology and aerodynamics, the company made sure to not lock itself into a strict brand image as had the other mainstream German automakers. Volkswagen produced cars for the masses, BMW produced cars for the driving enthusiast, and Mercedes-Benz produced cars for those who preferred (and could afford) supreme comfort and solidity.

Audi, conversely, did not adopt strictly static elements, such as sportiness or luxuriousness, as it defined its products in the 1980s. Audi instead developed a dynamic formula for creating cars that could be sporty, luxurious, and even fashionable through their remarkable ability to embrace technology and apply the ever-changing ideas of auto design to an innovative and capable product.

So while BMW tried to make their cars quick and Mercedes-Benz tried to make their cars comfortable, Audi tried only to produce a better car by riding the crests of technological waves. This strategy, after years of application, created the clear brand image that Audi has today. The 1980s saw Audi develop one of the most radically aerodynamic sedans of its time, as well as the successful use of all-wheel-drive as a means of improving handling in all weather conditions.

It followed naturally, then, that Audi should be one of the first automakers to successfully create a new type of car for the new millennium—a car that applied modern ideas, including the technology responsible for creating some of the most uninspiring and over-processed automobiles that the world had ever known, to an exciting and innovative package.

When the Audi TT was introduced in 1998 for the 1999 model year, it was an absolute sensation. Everything about it spoke to a new generation of automotive design. Though the TT would eventually be offered with a six-cylinder power plant, it was initially offered only with a turbocharged four-cylinder—a brave step for a car aimed at six-cylindered rivals from Porsche and BMW. The TT was available with front-wheel-drive, or with 'quattro' all-wheel-drive, both of which offered better foul-weather traction than rear-wheel-driven competitors.

The real audacity of the TT did not come from its small-displacement engine or its odd choice of drive wheels, though, but from its radical appearance dictated by J Mays and Freeman Thomas. With its Bauhaus-inspired design language, replete with perfectly sculpted fender flares and a bold roofline, the TT's design was bristling with the ideas of a new automotive age. The look was remarkably solid, an effect accentuated on silver TTs, which appeared to have been milled from a single block of billet aluminum.

The interior, too, was revolutionary. The extensive use of real aluminum to accent high-quality black plastics and leather was a trend-setting idea that, over a decade later, still looks modern and exciting. Martin Smith is credited with the TT's interior design, and his careful work created a cockpit that exuded the same brilliant sense of modernity and style as the car's outer skin.

The TT was beautiful, and it was also exciting to drive—although some of that excitement was unwanted. The Audi TT was based upon the same platform that underpinned the Volkswagen Golf, and should never have been considered a true sports car. Its price, power levels, and stunning looks, though, meant that some of its competitors were thoroughbred sporting machines like the Porsche Boxster. This led to unfavorable handling characteristics, where the TT showed that its racetrack capabilities were not in line with its striking appearance. Unpredictable oversteer prevented the TT from realizing any sporting aspirations it may have had, though it is likely that Audi always intended for the car to be more of a stylistic sensation than an accomplished track tool.

Any handling issues that the Audi TT had at its limits of adhesion were forgotten entirely in around-town driving, where the TT cosseted its pilot with the comfort, security, and unique style of a thoroughly modern vehicle.

A Roadster version of the TT, replacing the Coupe's pretty roofline and useless rear seat with a folding soft top and a polished pair of roll-over hoops, was offered after the first year of TT production. The Roadster was a sensible addition and a successful seller, adding the option of open-air motoring to the supremely stylish TT lineup.

The Audi TT was one of the first cars to embrace the technology of the new millennium in a unique and exciting manner. It may have relied heavily upon its looks to garner attention, but its bold appearance was as innovative and fresh as any other part of the car. The Audi TT proved that excitement can exist even in a modern automotive climate that is often at odds with the traditional elements of vehicular fun—and that's quite an achievement for a company that, just a few decades ago, was an unfamiliar name to most Americans.

Sources:

'Audi TT.' CarAutoPortal.com n. pag. Web. 28 Jun 2010. http://www.carautoportal.com/audi/audi-tt.php.

Enright, Andy. 'Audi TT (1999-2006).' Yahoo Cars 04 Oct 2006: n. pag. Web. 28 Jun 2010. http://uk.cars.yahoo.com/car-reviews/car-and-driving/audi-tt-2004432.html.

'Model Guide: TT Coupe/Roadster.' AudiWorld.com n. pag. Web. 28 Jun 2010. http://www.audiworld.com/model/.
By Evan Acuña
A two-door compact sports car, the Audi TT was manufactured by Audi Hungaria Motor Kft. in Gyor, Hungary since 1998 for the German automaker and Volkswagen Group subsidiary AUDI A.G. Today the TT is now in its second generation, and both generations have been available in two car body styles; as a 2+2 Coupe or two-seater Roadster. Both versions have been built on consecutive generations of the Volkswagen Group A platform beginning with the A4. Due to the platform-sharing, the TT has identical powertrain and suspension layouts as its related platform-mates; which includes a front-mounted transversely orientated engine, front-wheel drive or Haldex Traction-based Quattro on-demand four-wheel drive system, and fully independent front suspension using MacPherson struts.

In the spring of 1994 at the Volkswagen Group Design Center in California the styling of the Audi TT began. The TT was originally unveiled as a concept car at the 1995 Frankfurt Motor Show. J Mays and Freeman Thomas were credited for the design, along with Martin Smith and Romulus Rost who contributed to the award-winning interior design. The TT takes its name from the successful motor racing tradition of NSU in the British Isle of Man TT motorcycle race. In 1911 NSU began competing in the TT, and eventually merged into the company now known as Audi. The Audi TT follows the NUS 1000TT, 1200TT and TTS cars of the 1960s in taking their names from the race.

Enabling seamless design features on the first-generation TT was a previously unused laser beam welding adaptation, but which actually delayed its introduction. In the beginning Audi didn t offer any type of automatic transmission option for TT. From 2003 though a dual clutch six-speed Direct-Shift Gearbox became available, with the U.K. TT variants becoming the world s first user of a dual clutch transmission configured for a right-hand drive car. Though the major world first for a road car equipped with a dual clutch transmission was claimed earlier by a Volkswagen Group platform-mate; the left hand drive Volkswagen Golf Mk4 R32.

With an internal designation Typ 8N, the production model was introduced as a Coupe in September of 1998, followed closely by a roadster in August of 1999. The production model was based on the Volkswagen Group A4 platform as used for the Volkswagen Golf Mk4, the original Audi A3, the Skoda Octavia and others. Compared to the concept the production model was styled only a little different from the concept, except for the slightly re-profiled bumpers, and the addition of a rear quarterlight windows behind the doors. In October of 1998 the factory production commenced.

After a series of high-speed accidents in Europe, early TT models gained press coverage. During abrupt lane changes or sharp turns crashes were reported along with related fatalities that occurred at speeds in excess of 110 mph. Late in 1999 and early in 2000, both the coupe and roadster models were recalled to improve predictability of the car s handling at extreme high-speeds. Newly added were Audi s Electronic Stability Programme, and rear spoiler, along with suspension modifications. All of the changes and updates were subsequently incorporated into future series production version of the vehicle. In June of 2006 factory production of this generation ended.

Sharing an identical powertrain layout as its related Volkswagen Group platform-mates mechanically, the TT utilizes a transversely mounted internal combustion engine, with either front-wheel drive, or quattro on-demand four-wheel drive. Initially it was available with a 1.8 liter inline four-cylinder 20-valve turbocharged engine in two states of DIN-rated power outputs; 178 hp and 222 hp. All of these engine share the identical fundamental design, however the 166 kW version features a larger K04 turbocharger, an additional intercooler on the right side, forged connecting rods, a dual tailpipe exhaust and several other internals; which were designed to accommodate the increase in turbo boost; from around 10 lbs per square inch to 15 lbs per square inch. Branded as Quattro ; Haldex Traction enabled four wheel drive which was optional on the 180 engine, and was standard on the more powerful 225 version.

In early 2003 the original four cylinder engine range was integrated with a 184 kilowatts 3.2 liter VR6 engine, which came standard with the Quattro four-wheel drive system. The following July, a new six-speed dual clutch transmission called the Direct-Shift Gearbox which improved acceleration through much reduced shift times, was available, along with a stiffer suspension.

In 2005, Audi unveiled the Coupe-only limited edition Audi TT Quattro Sport. The Quattro sport was built by Audi A.G. high performance specialist subsidiary Quattro GmbH and it featured increased power from its 1.8 liter turbocharged engine rising to 27 hp and 236 lb ft of torque. It also was reduced in weight by 165 lbs which allowed it to reach 0 to 62.1 mph in just 5.9 seconds and it had a top speed of 155.3 mph. Audi achieved this weight lot by deleting the spare wheel, the removal of the rear parcel shelf and rear seats along with deleting the standard fitment air conditioning. On the inside, the Quattro sport featured lightweight fixed-back Recaro bucket seats. You could tell the Quattro Sport from the other TT Coupes by its two-tone paint scheme and the exclusive 18 15-spoe cast aluminum alloy wheels, plus the identical body kit fitted to the TT 3.2 V6, up-rated suspension settings, black exhaust tailpipes, V6-spec brakes with red-painted calipers up front and new wheels that were wider at the rear which greatly improved handling.

The first generation TT has undergone two U.S. class action lawsuits affective specific models. In 2007, Pearson, Soter, Simon, Warshaw and Penny at LLP and the Law Office of Robert L. Starr filed a class action lawsuit against Volkswagen Group of America claimed that the timing belts for model year 1999-2003 Audi and Volkswagen cars equipped with a 1.8 liter turbocharged engine fail prematurely. The vehicles included in the suit are the Audi TT, Audi A4 and the Volkswagen Passet. The plain claims that the timing belts fail prior to the service interval, as stated in the owner s manual. In May of 2008 the parties had reached a class-wide settlement and preliminary approval of the settlement was granted by the court. Another lawsuit entered May of 2008 alleged that the instrument clusters on 2000-2005 model year Audi TTs were defective.

For 2000, the original generation Audi TT was nominated for the North American Car of the Year award. For 2000 and 2001 it was also on Car and Driver magazine s Ten Best list.

In 2005, a sneak-peak of the second-generation TT was revealed in the form of the Audi Shooting Brake concept car at the Tokyo Motor Show in 2005. The concept featured angular styling, and a shooting brake two-door hatchback body style, and was an insight into the new TT design. On April 6, 2006 Audi unveiled the second-generation TT; internal designation Typ 8J. Constructed on the Volkswagen Group A5 platform, the 2nd generation TT utilized aluminum in the front body panels and steel in the rear which enhanced its near-neutral front-to-rear weight distribution. This vehicle was available in front-wheel drive or quattro four-wheel drive layout and it was available once again as a 2+2 Coupe and as a two-seater Roadster. In comparison to the previous generation, this newest generation is five inches longer and three inches wider. In August of 2006 factory production began.

In the beginning the powertrain options only included petrol engines, which consist of either one of two inline four cylinder engines; the all-new 1.8 liter EA888 Turbocharged Fuel Stratified Injection or the more common and established EA113-variant 2.0 liter TFSI. Derived from the Audi Le Mans endurance race cars, the Fuel Stratified Injection and offers advanced power output and cleaner emissions. Brought over from the previous year the 3.2 liter V6 badged VR6 engine was also available in the Canadian model. In the 2009 model year the 2.0 TSFI Quattro models with the latest EA888 engine.

Standard on this generation was a six-speed manual transmission with the six-speed Direct-Shift Gearbox as optional for all but 1.8 liter engine. Standard on V6 models was Quattro on-demand four-wheel drive, once again using the Haldex Traction clutch, but not available on 1.8 TFSI. The new 8J TT now featured a multi-link fully independent rear suspension which complimented the front independent suspension, much like all its PQ35 platform buddies. Audi Magnetic Ride was Audis new active suspension which enhanced the entire suspension system and was available as an option. This extra feature was based on Delphi s MagneRide, a suspension which utilized magneto rheological dampers. Also new on this TT was an updated rear spoiler that automatically extends at speeds greater than 75 mph and retracts again below 50 mph. This spoiler can be manually controlled by the driver through a switch on the dash.

Debuted at the 2008 Geneva Motor Show, the 2.0 TDI Quattro is the first diesel engined version of the Audi TT in the European market. As the name implies, it is only available with Quattro, and is available in Coupe and Roadster version. Power came from the new 2.0 liter Turbocharged Direct Injection engine, now with 16 valves, double overhead camshaft, 1,800-bar common rail fuel delivery and eight-hole piezo fuel injections that produces a DIN-rated output of 168 bhp at 4,200 revolutions per minute and torque of 258 lb/ft at 1,750 to 2,500 rpm. This model also includes a six-speed manual transmission.

Acceleration was rated from 0 to 62.1mph on the Coupe in just 7.5 seconds and could reach a top speed of 140.4 mph. The Roadster was slightly less aerodynamic and reached 0 to 62.1 mph in 7.7 seconds and had a top speed of 138 mph. Audi claims that the average fuel consumption for the Cope variant with the 2.0 TDI engine is 5.3 liters which achieves a CO2 emissions rating of 139 gram. The Roadster TDI achieves an average of 51.4 mph and CO2 of 144 gram.

Audi released the first Audi S model of the TT range at the 2008 North American International Auto Show in Detroit with a heavily revised 2.0 TFSI engine. The cylinder block, fuel injectors and cylinder head were all modified from the base 2.0 TFSI engine. Along with additional modifications, this engine produces a DIN-rated motive power output of 268 bhp and generates a torque turning force of 258 lb ft of torque from 2,500 to 5,000 rpm. The S was available with a choice of either a six-speed close-ratio manual transmission or a six-speed S tronic transmission. The S tronic gearbox was the only available transmission in the United States and it was only available with Quattro four-wheel drive as standard.

The suspension in the S was lowed by 0.4 inches in comparison to the standard models and included Audi Magnetic Ride as standard and a all-new two-stage sports-biased Electronic Stability Programme . Clamped by a single-piston gloss black caliper which was embellished with a bold TTS logo was the radially ventilated front disc brakes and a lap time that was prominently displayed in the center of the instrument cluster. Standard on the S were 9Jx18 5-parallel-spoke design alloy roadwheels with 245/40 ZR18 high performance tires. 19 5-spoke star wheels and tires were optional on this vehicle. Compared to the standard model the exterior featured some updates with a TTS body styling with a newly redesigned front, redesigned rear bumper, side sill extensions, four exhaust tailpipes and larger air intakes. The TTS s Coupe performance was recorded at 0-62.1mph in just 5.4 seconds, with the Roadster just two-tenths slower at 5.6 seconds. The top speed is electronically limited to 155mph.At the 2008 Isle of Man TT motorcycle races Audi offered 8 TTS cars for official use.

At the 2008 W rthersee Tour at P rtschach am W rthersee in Austria Audi debuted a new show car variant of the second generation Audi TT; the TT Clubsport Quattro. It was shown only in an open-topped speedster variant, and its 2.0 TFSI engine was tuned to give 296 bhp. The soft top from the standard TT Roadster disappeared and was replaced with two humps , along with two substantial roll bars. The Clubsport Quattro featured LED daytime running lamps, black-painted single frame grill , an aggressive body kit with large frontal air intakes and a lower spoiler lip. The axle trip was widened 2.6 inches with bolder and wider wheel arch extensions, wider side sills, polished 19-inch alloys and 255-section tires, and the rear were twin polished stainless steel oval tailpipes next to a new rear diffuser.

On the inside the Clubsport Quattro featured racing bucket seats, a six-speak S tronic dual-clutch transmission with Quattro four-wheel drive, TTS spec brakes and lightweight aluminum detail throughout the interior. Though Audi has not ruled out the possibility of a small scale production, it was primarily a show car .
Debuted at the 2009 Geneva Auto Show, Audi released the first ever compact sports car Audi RS model; the new Audi TT RS which was available from 2009 in Coupe and Roadster variants. Developed by Audi s high performance subsidiary Quattro GmbH at Neckarsulm, the new TT RS harks back to the sporting legacy of 1980s Audi Quattros with their high performance five-cylinder turbocharged engines. The TT RS included an all-new 2.5 liter inline five-cylinder Turbocharged Fuel Stratified Injection petrol engine which produced a DIN-rated motive power output of 335 bhp from 5,4000 to 6,700 rpm and a torque of 450 newton meters at 1,600-5,300 rpm.

The Audi RS2 Avant and all Audi RS models afterwards were assembled at the Quattro GmbH factory in Neckarsulm, Germany. The TT RS however will be the first Audi RS vehicle not assembled in Germany, instead it was completely assembled in the Audi factory in Gy r, Hungary alongside its lesser Audi TT mates.

Featuring a new short-shift close-ratio six-speed manual transmission the TT RS is only available with Audi s trademark Quattro four-wheel drive system, like all RS models. The TT RS utilized a specially adapted version of the latest generation multi-plate clutch from Haldex Traction. The Quattro system included addition like a constant velocity joint before the cardan propeller shaft and a compact rear-axle differential that was up-rated to cope with the increased torque from the five cylinder turbo engine. The TT RS featured a 0.4 inch lower ride height like the TTS and featured optional Audi Magnetic Ride and rides on a standard 18 inch road wheels with 245/45 ZR18 tires. The front discs on the TT RS are clamped by gloss black painted four-piston calipers which featured the RS logo and the braes were up-rated to include two-piece cross-drilled and radially vented front discs sized at 14.6 inches in diameter. The rear ventilated discs were 12.2 inches in diameter.

The Audi TT RS also featured a fixed rear spoiler with a retractable being an option. The interior was black with heated Alcantara/leathe sports seats with Silk Nappy and Fine Napppa leather as an option. Also available as an option were Recaro RS bucket seats that first appeared in the Audi B7 RS4. The Sport button which sharpened the throttle response and deepened the exhaust note was carried over from the B7 RS4 along with a three-stage user-selectable Electronic Stability Programme.

In March 2009 the TT RS went on sale and delivery began in the summer. The vehicle had a top speed of 155.3 mph and could achieve 0-62.1 mph in just 4.6 seconds, and 4.7 seconds for the roadster. A factory option de-restricted the top speed to 174.0 mph. The Coupe has a kerb weight of 3.197 lbs and the Roadster weighed 3,329 lbs.

The recipient of numerous awards, the second generation TT won the inaugural Drive Car of the Year, Top Gear Coupe of the Year in 2006, Fifth Gear Car of the Year in 2006, World Design Car of the Year 2007, Autobild Most Beautiful Car and being a finalist for World Car of the Year.
By Jessica Donaldson